I think I've found my mum groove. About time.
Today I woke at 7 (massive sleep in), had a leisurely breakfast with the little guy and then went for a little bike ride with him in tow. We then went to a waterpark with friends, had an awesome swim and even went down the waterslide together. We came home for a quick lunch and then bubs had a snooze for 2 and a half hours while I pottered around doing bits and bobs. Then we enjoyed a spot of shopping and hung out at a café. Home for a play, then dinner then dad was home in time to help with bath and bed. After which, Husband and I had a chance to catch up on each other's day over dinner.
What does all this mean?
I think I've finally found my mum groove.
Not all days are like this, but I can finally say that I love being a mum. It's been a long time coming.
Everyone finds there mum groove at different times. For those of us that find it later, it doesn't mean we love our little ones any less, it just means the transition to parenthood took a little longer, and that's just fine.
Some people have wanted to be a mum their whole life.
Some people fell pregnant accidentally.
Some people wanted to fall pregnant and then just freaked out a bit when they did.
Some people love being pregnant.
Some people hate it.
Some people love the newborn phase.
Some people are petrified of it.
Some people face tragedy that overshadows the joy.
Some people face depression and anxiety that they can't control.
Some people just find it a bit different to what they expected.
Sometimes things hinder or slow down the process of finding the mum groove.
That doesn't matter. What matters is that you will find it. I promise.
I was a damn good mum from the start (though that's in hindsight). And there was no doubt that I loved our baby, more and more each day. But I didn't always like being a mum. I specifically remember saying this, a lot: "There's just nothing FUN about it. It's RELENTLESS!"
I know that fun was had during that time but when I look back at the blur of those first few months, relentless hard work is what springs to mind.
The sleep depravation kicked in at about the 3 month mark and tainted the next few months. My love for our baby was growing even stronger but this only fuelled the guilt I was feeling for not coping and not enjoying the day to day, ins and outs of being a mum. I'm sure this is familiar story for many mums. For some, remove sleep and add your issue of choice: reflux, colic, feeding, illness….
But here's what I didn't realise: Every day I faced, every challenge and obstacle and dirty nappy and sleepless night, I was becoming a better mum. I was slowly, but surely, finding my groove.
I can't pinpoint the moment it happened, but as sure as day, it did.
And just as I found it I know there will certainly be times when I lose it (say when we add another member to the family), but right now I can honestly say I love my baby, I love being a mum and having A. is the best thing that ever happened to me.
Now to my dear husband who found his dad groove instantly: Thank you for your love, patience and support.
PS. Once or twice I may have lied about going to the toilet just so I could hang out in the bathroom to get some peace.
I would love to know...
When did you find your mum groove?
Were you one of the lucky ones who found it straight away or like me did it take some time?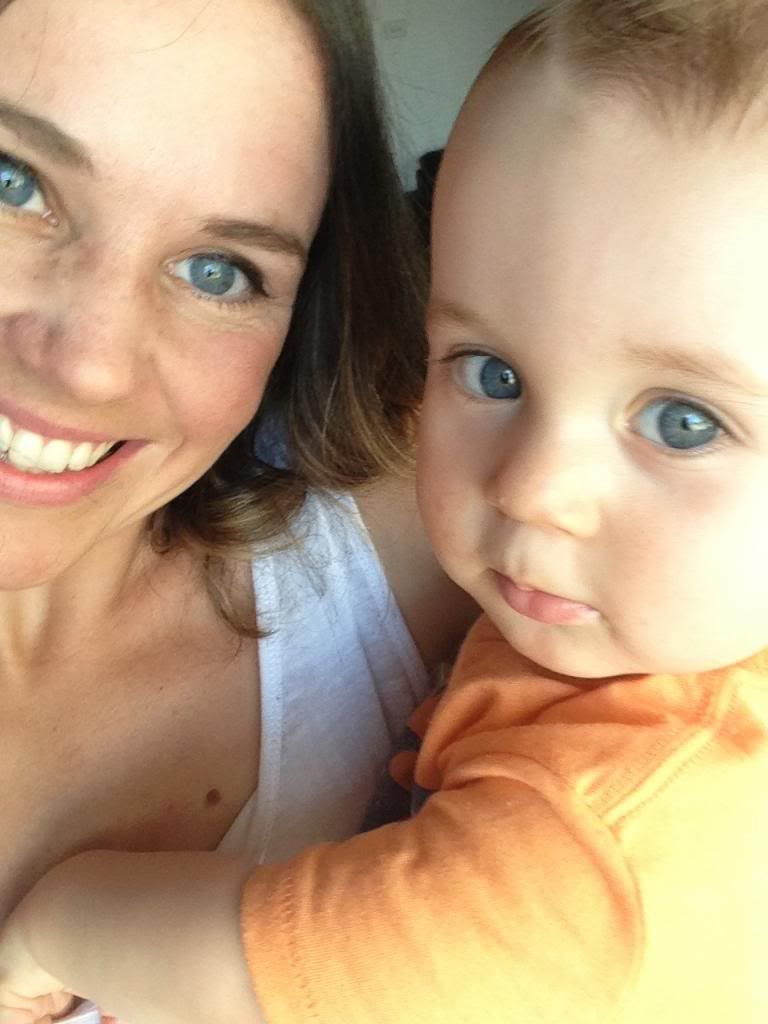 A. and I finding our groove